Viewing the Newsletter requires Adobe Reader be installed

Link to locations and web sites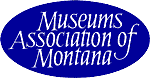 of other Montana Museums
Step back into the days of the old west. Cowboys and cattle drives. Coal mines, one room country schools and general stores. Experience life as it was in the old west. Tour an original log cabin built by English Lords for their early cattle operation. With over 7,000 square feet of exhibit area you're sure to enjoy the experience.

The museum is open seven days per week from May through September. Hours of operation are 1:00 PM until 5:00 PM. There is no admission fee, however donations are gratefully accepted.

Musselshell Valley Historical Museum

is closed for the season.

Read the 2015 Newsletter here

New Feature

Stories of Roundup of yesteryear are now featured on the page "Old Wild West". Written by Edith Sloan, these stories will describe life as it was. New story added March 26, 2014.

Watch this spot for announcements for events during the 2016 season

Watch Us Grow!!

A new display area was built in 2015 next to the blacksmith shop. The addition houses an exhibit called "Cowboy and Western Artifacts". Thanks to the volunteers who made this project a reality.